Today's Featured Artist Is
Judith Durr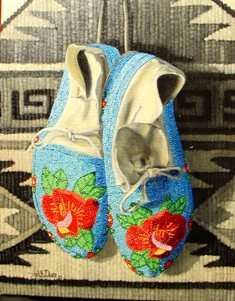 Specialties:
painting



"Painting can be taught, however, the gift of inspiration, dedication and passion is within." -Judith Durr

Raised in the Southwest, a native of Arizona, Judith Durr resides in Cave Creek, Arizona with her artist husband, Roger Kull.

"My Southwestern oil paintings are created from respect for my Choctaw/Cherokee heritage. I preserve the legacy of the First People's artifacts and rugs portrayed in my oil paintings. However, I paint artifacts from tribes and clans throughout the Americas. By capturing the emotions of the viewer, my objective is illusion. I want the viewer to want reach out to feel the fabric of the rugs, the beadwork on the moccasins, and the smoothness of the pottery or pick the kernels from the corn because they look real. My distinctive style is unique with the use of a rug as consistent background element in every still life painting. I paint from my extensive collection of artifacts. I enjoy the history and stories about each artifact. Painting from life, each still life painting is skillfully composed and sketched. To accomplish the realism, I use layers and glazes. The challenge is to paint superior oil paintings."

Judith's exquisite oil paintings, her spectacular style, and dedication to realism are internationally recognized. Her Native American heritage is the inspiration for her First People's still life oil paintings. Her genre includes Western Life, landscapes and historical research. She is a member of Oil Painters of America, Southwestern Premier Artists and the Sonoran Arts League. Her work is advertised in Western Art Collector, Southwest Art, Art of the West and Arizona Art Collector. Visit Judith's home/studio or for a current show schedule call, email or visit her website. Judith lectures for museums, universities elder hostels, foreign exchange students programs, fine art councils, annual Native American art shows and many private organizations though out the country.

Judith Durr has been represented by many galleries throughout the Southwest, The E.P.A. as the poster for their in-house programs 2007, 2009 & 2010. She has been the featured artist for many fine art shows.




Website:
Click to visit the artist's website