Award Winning Art
&
Cultural Information
Here you will find traditional Native American art as well as more modern Contemporary themes, including jewelry, ceremonial pipes, stone sculptures, and paintings by Choctaw Indian Artists.
The goal of Choctaw Art is to provide visitors with a variety of Choctaw artists who produce high quality art in a variety of styles and mediums and to raise awareness of the heritage of Choctaw Indians by providing information on the rich cultural history of the Choctaw.

---
More Native American Art
Visit our sister site for more award winning American Indian art.

---
Gallery Organization
The contents of each shop is the complete responsibility of that artist and although every attempt is made to insure that every member of this gallery is of the highest integrity it not our intention to be censors or babysitters. Art is an individual thing and what appeals to one may not appeal to all. The entry page for each artist will contain a summary of the type of art they produce. If what is described is not to your taste please return to the gallery page and choose a different artist.

Interested in joining the gallery? Find out how on the Info Page
Not a Choctaw Indian but interested in joining a similar gallery? Other Opportunities
Details of offers available to join this gallery.
---
Here are some of
our award winners
Marsha Hedrick
1st Place Pottey Miniatures -- Heard Museum Indian Market -- March 2015
---
Karen Clarkson
Best of Show - Choctaw Art Show 2013, First Prize - Choctaw Art Show 2013, First Prize - Sedona Arts Festival 2011-2012, First Prize - Gold Medal Award Drawing Category
Conservatory Art Classic
---
Gwen Coleman Lester
Heritage Award
Choctaw Indian Art Show 2012

Best of Division, Graphics
Cherokee Art Market 2012
---
Theresa Renegar
Choctaw Pow Wow in Tuskhomma 1st & 3rd place in jewelry category
---
Keith Pearson
Honorable Mention Choctaw Nation Art Show 2011
---

We would also like to invite you to join our MAILING LIST so we can krrp you informed of important news and when new Native American artists join the gallery.
Today's Featured Artist Is
Karen Clarkson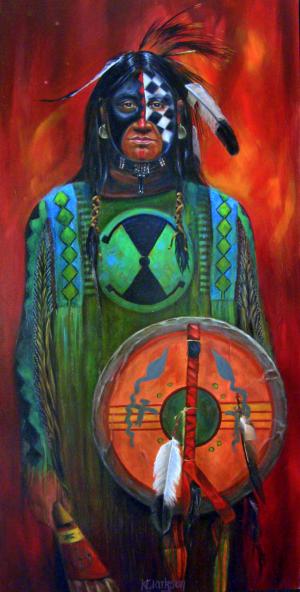 Specialties:
Paintings

Karen's emphasis is to capture the inner voice of her subject . Karen has applied her talents to a variety of art disciplines such as still life, portraits, abstracts, quilting and wall murals. Karen is a member of the National Registry of Native American Artists, the Indian Arts and Crafts Board, the Choctaw Nation Artist Registry, and most recently Artists Against Drunk Driving. You can see her work each year at the Santa Fe Indian Art Show in New Mexico.


Website:
Click to visit the artist's website
This is the page for webrings on this site. It is identical to the home page but the rings have been placed here so that loading of the rings does not slow down people that are not surfing the rings. Click on the Webrings button to return to this page to continue surfing the webring.